It's true. I was already on cloud 895,876,493 dreaming about the business class seats we scored for cheaper than coach on our flight from LA to Hong Kong. And then Cathay Pacific had to go and upstage itself. Literally.
About 2 months ago it unveiled it's NEW business class seats. Because the massaging, lay-flat bed with a personal tv wasn't enough for some people apparently. (there are days I want to find those people and pinch them) The new seats are larger (didn't know that was possible), make it easier to see out of the windows and even include power to each seat along with iPod hookups. Apple is taking over the world. I'm calling it now.
Here are the old seats: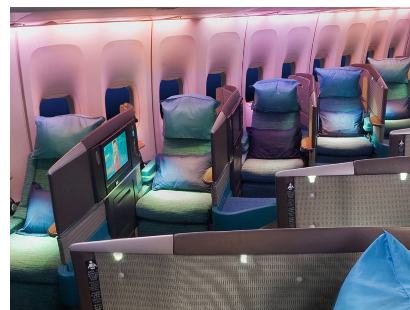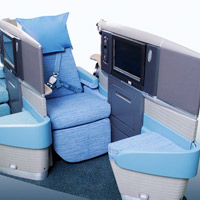 Very roomy, lots of space and every amenity you can think of needing in a seat. So why the replacement so soon? Some passengers had complained about the seat being narrow and the way they were aligned made it almost impossible to look out of the window. Since Cathay Pacific is one of the top airlines in the world, it didn't take complaints like this lightly. Instead, it answered with a complete overhaul of it's business class seats. And boy did they step it up!
New cabin is more open allowing passengers traveling together to talk during flight
It's a bed!!! On a plane!!!!
Modern updates
Yes, I will be snoozing in the air. In case you can't tell, I'm really excited about this!
We REALLY lucked out with this renovation. For starters, business class mileage seats go FAST. As in, within the first week a flight is released to the public. On top of that, any updates made to a flight means demand goes up so airlines will make less seats available to use miles for since so many passengers are willing to pay for the new seat. So lesson learned! Book mileage flights as soon as your travel plans are set, especially if you're flying business. While there isn't a guarantee that our specific plane will have these seats, they are focusing on long haul flights first and the 15 hour LAX-HK is definitely a long haul flight. (it's classified as an "ultra-long haul." thanks for the reminder Cathay)
Have you ever been surprised right before a trip with news like this? Did an airline wow you recently? Let me know! :)